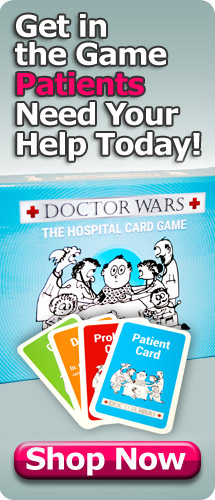 Welcome to Doctor Wars® – The Hospital Card Game!
The object of the game is to lead your team of doctors and nurses to successfully "treat" patients.
Consult Dr Bleauphardt the Gastroenterologist to cure diarrhea. Ask Dr Oops the Surgeon to operate on a hot appendix, or Dr Knowitall the Medical Doctor to cogitate about diabetes – that is, IF they're on call. Don't forget about the powers of the Super Nurse, and always beware the Grim Reaper!
Featuring dozens of original cartoon illustrations, Doctor Wars® is a fun strategy game made in the USA that the entire family can play.
The combination of patients and problems is always changing - every game is a new and different experience.

Here's what people are saying about Doctor Wars®:
"Every med and nursing school graduate should have a stethoscope, their favorite texts and journals, and a copy of Doctor Wars® by the time they graduate."
– Retired Professor
"My son loves this game. He plays it for hours."
– Emergency Room physician
"This is awesome. I would buy this game."
– College Student after trying Doctor Wars